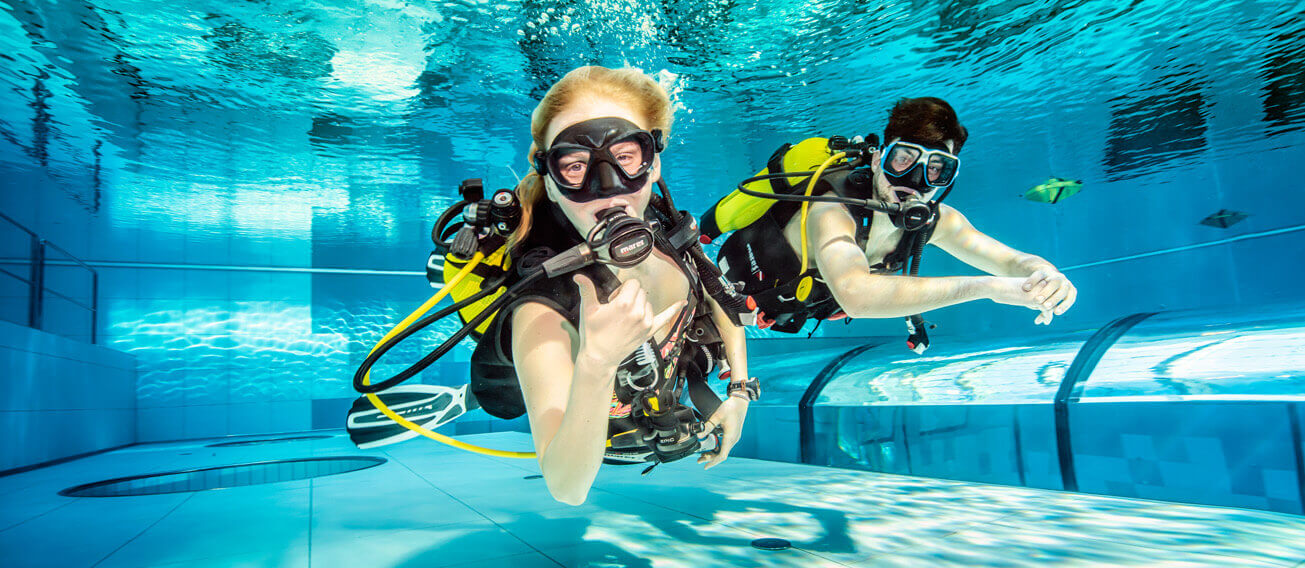 watch the video
DEEPSPOT SCUBA 12 M (CERTYFIKAT BASIC DIVER SSI)
Do you dream about diving? Would you like to know what it's like to breathe underwater, how does water affect your body? If so, our offer of the first dive up to 12m is just for you! Diving is an amazing adventure that can turn into a life passion. In Deepspot, you will take that first step in comfortably warm, crystal clear water! Perfect conditions will allow you to fully experience the pleasure of exploring the underwater world. The care of a qualified instructor will make it not only amazing, but also completely safe experience. The 12m Scuba Deepspot program is intended for people who want to start the equipment diving training process, in particular people who have taken the First Scuba Dive offer but are not ready to take the full course providing the first level of certification for self-diving (SSI Indoor Diver / SSI Open Water Diver).
Discover Deepspot Scuba 12m
The first dive in the Deepspot up to 12m takes 90 minutes. It is designed for one person and includes: – Theoretical part, during which you will receive all the information necessary to dive safely – The practical part, i.e. diving under the supervision of a qualified instructor up to 12m – All the necessary equipment (vest, air cylinder, breathing apparatus, mask and fins), just bring a towel, bathing suit and flip-flops. Don't forget about a good mood! – After completing the dive you will receive a certificate, thanks to which you will be able to dive up to 12m under the supervision of an instructor! The 12 m Scuba Deepspot is implemented in accordance with the methodology of our strategic partner, ie SSI International. After completing the course, you will receive the Basic Diver SSI certificate. This is the first step towards Indoor Diver / Open Water Diver certification. Buy this course if you want to take the next step after your First Scuba Dive or are not yet ready for a full SSI Indoor Diver course.
MAXIMUM DEPTH

12 m

MINIMUM AGE

10 y.o.

MAXIMUM NUMBER OF STUDENTS PER INSTRUCTOR

4

TOTAL DURATION:

90 min

the maximum number of participants per 1 instructor

2

PRICE:

389

after the course you will receive:

certificate entitling you to dive up to 12m with an instructor

Price

from 359 PLN (off-peak hours)
to 389 PLN (peak hours)