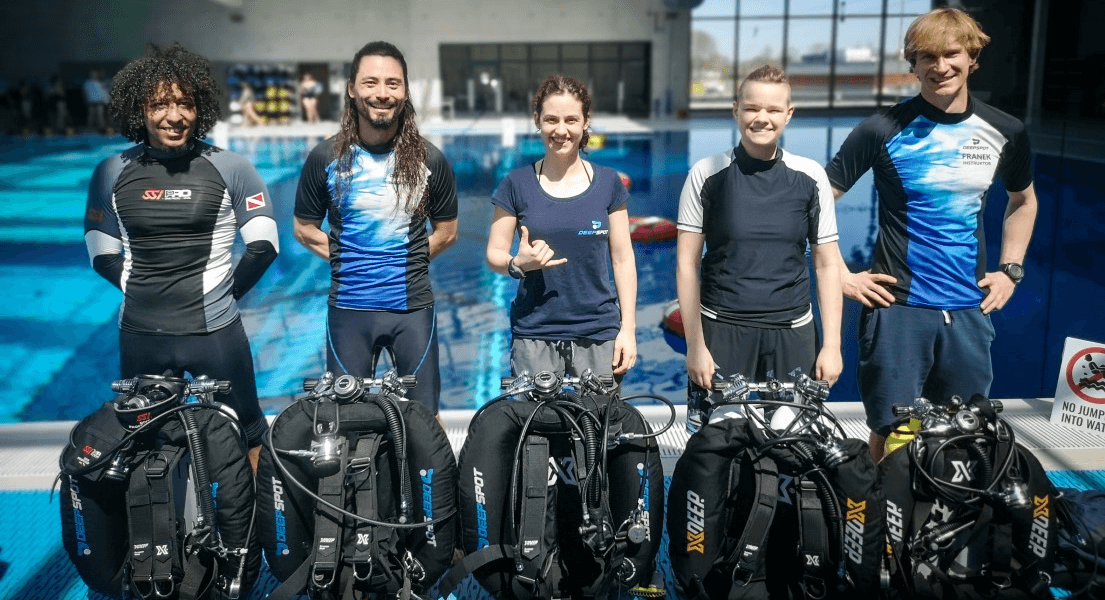 First step to technical diving
The XR Foundations course is a training course leading from pure recreational diving to the world of more ambitious diving, such as decompression, wreck, technical or cold-water diving. It is an opportunity to experience the challenges faced by technical divers in controlled, indoor Deepspot conditions. A possibility already available for divers with OWD degree!

XR Foundations is an excellent training course both for those who want to do further technical diving courses in the future and for ambitious recreational divers who simply want to improve their skills and overall dive safety and comfort. It is also a helpful course for those who want to start assembling their own diving equipment and make the best purchasing decisions in the process.

The course will be organized as a recurring event, each time covering two days with approximately 9 hours of instruction each day.
Product details
The XR Foundations course has a workshop character and focuses strongly on the improvement of practical skills, such as the proper configuration of the diving equipment, operation of the two-cylinder set (twinset) and the entire technical configuration on the surface and underwater, improvement of buoyancy and trim, simulation of emergency situations, shooting the decompression buoy or diving in the depths.

. The training includes:
– theory related to the Extended Range Total Diving System, in-depth discussion of the Hogarthian configuration and the DIR philosophy,
– workshops on self-configuration of the equipment,
– four dives during which we perform almost all exercises in the depths.
– Swimming skills test combined with surface rescue workshop in XR equipment configuration.

. Participants operate in dry suits (if certified or taking the course) and use exactly the same equipment as used for decompression diving and in confined spaces. The course does not increase the maximum dive depth rating, but significantly improves the knowledge, comfort and safety of divers who have not previously been trained in this equipment configuration.
Certryfkat XR Foundations is a proof of ability to dive in two-cylinder set and technical configuration.

Price includes:
– entry to Deepspot
– SSI instructor care and training
– rental of two-cylinder set and all necessary equipment according to XR course standards
– course completion certificate

The price does not include transport, possible accommodation, food.



The XR Foundations course can be combined with the Dry Suit course in such a way that you first make one training dive with an instructor and have a theory session and the completion of the course will already take place during the XR Foundations, i.e. the diver will make 5 dives in a dry suit instead of the standard 3.

Who will benefit from this training and why

– Recreational divers who want to dive better. During the course you will do many exercises for which there is not enough time during standard recreational training.
– divers who want to start their adventure with technical diving
– will get a solid foundation on which they can build further experience in the directions they choose
– divers trained in warm waters who want to start their diving adventure in Poland – a soft transition in the form of cold-water equipment in controlled, deepspot conditions
– Divemasters and recreational instructors wishing to broaden their knowledge and experience in the world of XR diving
– People preparing for training courses such as XR, advanced wreck courses, Deco Procedures, Advance Nitrox, CMAS P3 and the like.

MINIMUM AGE FOR THE COURSE:

16 YEARS OLD

MAXIMUM DIVING DEPTH:

12 M

GROUP SIZE

2-4 persons, extra charge for individual training PLN 1000, date to be agreed with the instructor.

PREREQUISITES:

OWD (or equivalent level), 24 logged dives, XR swimming skills (25 metres underwater in fins, 400 metres surface in full wetsuit)

TOTAL DURATION OF THE CURST

Approximately 18 hours

NUMBER OF HOURS IN THE WATER

Approximately 5 hours

REQUIREMENTS FOR COURSE COMPLETION

Passing the practical part in water

PRICE

2000 PLN

SURCHARGE FOR SPECIALTY "DRY SUIT"

500 PLN

SURCHARGE FOR SPECIALISATION "NITROX"

400 PLN

IN PRICE:

lectures, certificates